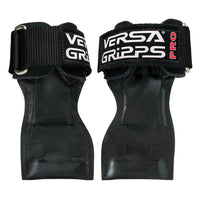 The optimal grip for all athletes. Versa Gripps are the only self-supporting grip assist designed by strength trainers to enhance muscle isolation and optimize performance by locking your grip in place. Pro Versa Gripps are used by athletes and professional sports teams all over the world. They eliminate the need for gloves, lifting straps, wrist supports or hooks, so you can experience an enhanced mind-muscle connection.See for yourself why top athletes trust Versa Gripps, the number one grip worldwide.
Pro Specs
1.5" Wrist strap
Built-in arch support
6.25" Grip length
Sewn with reinforced, non-abrasive thread
Exclusive Versa Gripps non-slip material
Extra heavy duty stainless steel, rust-resistant buckle
SIZING: There is no correlation between wrist size and body size. The best way to "find your fit" is using a measuring tape. If you are on the "line" – we recommend sizing up.
VERSA GRIPPS PRO SIZING (Wrist Measurement)
X-Small: 5" – 6"
Small: 6" – 7"
Reg/Large: 7" – 8"
Extra Large: 8"+
It is very important to order the correct size in the style you desire. To determine the correct size of Versa Gripps that you need, please wrap the tape measure all the way around your wrist (directly over your wrist bone). The size of Versa Gripps is not determined by your body size but your wrist circumference. Versa Gripps are designed to fit securely (not too tightly, especially while doing pulling exercises) around the base of the athlete's hand. When worn with a proper fit, the user is able to easily rotate them around to the back of their hand when they are not in use.  Versa Gripps will not damage the hands or wrists by over-tightening the way that a strap would. They will not restrict blood flow, movement, nor will they damage nerves. When worn correctly, the pressure is not on your wrist but is actually evenly distributed across the base of your hand.