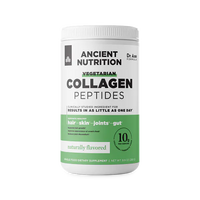 Vegetarian Collagen Peptides
$34.95
Packed with benefits for your hair, skin, joints and gut†, this first-of-its-kind vegetarian collagen supplement brings you fermented eggshell collagen, plus prebiotics and probiotics.
Vegetarian-friendly: made with fermented eggshell membrane collagen
Supports healthy hair, skin, joints & gut
Promotes hair thickness and growth†
Improves appearance of crow's feet, skin appearance and skin health†
Improves skin firmness and elasticity†
Reduces joint discomfort†
Increases flexibility†
Includes prebiotic fiber and probiotics to support digestion†
Added probiotics for ultimate gut support†
Clinically Studied Fermented Eggshell Membrane Collagen
Ancient Nutrition is the only leading collagen brand on the market currently with a proprietary fermented collagen ingredient backed by human clinical studies, proven to provide real results as early as day one.†
Clinically Studied SBO Probiotics
Each serving includes 2 billion CFU* (*at time of manufacture) of an SBO probiotic strain called Bacillus coagulans. SBO, or soil-based organism, probiotics are a particularly resilient and effective strain. We've included it to provide added support for a healthy gut, digestive function, healthy bowel transit time and healthy gut flora.†
Prebiotic Fiber
We use acacia fiber, which is a beneficial prebiotic fiber that helps the beneficial bacteria in your gut (known as probiotics) thrive. Known to be easier on the gut than many other fibers, acacia fiber has been used in surprisingly diverse ways for centuries; you'll find it in baked goods, skincare or haircare and more.