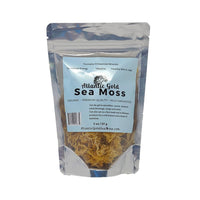 Sea Moss - Raw 2oz
$13.99
Gently grown in the unpolluted, warm waters of St. Lucia, raw and organic Atlantic Gold Sea Moss is nourished by the ocean, then dried by the sun, never bleached with chemicals, and no fertilizers used. 

Sea Moss Benefits:
Irish moss contains 92 of the 101 minerals we currently know our body needs, making it very beneficial to bones, hair, skin and nails.
Not only will eating it help your hair and skin, but you can apply it directly to both. A quick search will show up hundreds of natural hair and skins masks using Irish moss gel.
Its high nutrient concentration makes it great for energy and libido.
Sea Moss is helpful for weight loss because it will help you feel less hungry.

Contains Powerful Essential Minerals:
Iodine and magnesium for thyroid function
Collagen for skin, joints & connective tissues
Helps muscles after an intense workout
Reduces mucus
Balances hormones, increases libido

How To Make Sea Moss Gel:
- Prepare the sea moss by soaking it in water until it plumps up.
- Rinse the sea moss with water until it runs clear.
- Blend the sea moss with water until it goes smooth.
- Store refrigerated for up to 2 weeks. 

How much sea moss to take daily:
The recommended daily dose of sea moss is 1-2 tablespoons or 4 to 8 grams per day. This level of dosage should allow users to see the benefits without noticing too much of the potential side effects.

Note: It is recommended that anyone with higher than normal levels of iodine should avoid taking seamoss in any form.