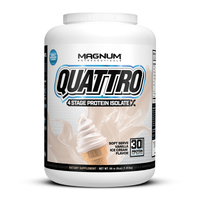 4 different sources of Isolate protein for timed digestion*
There is more protein per scoop than almost any product available today*
Sustained energy throughout the day*
Aids in achieving leaner and denser muscles*
APPETITE SUPPRESSANT: Your workout might leave you feeling pretty hungry afterward. Instead of ruining your progress and indulging in a large meal, opt for this low-calorie, low-carb protein shake. It will help to suppress your appetite and can even act as a meal replacement and help you feel full until the next meal time.
IMPROVES IMMUNE & BONE HEALTH: This delicious protein shake contains superfood omegas, including CLA and flaxseed, to help increase the presence of essential fatty acids and promote protein assimilation. This helps to boost your immune system and improve your bone health. You won't just perform your best — you'll also feel your best.
BUILD MUSCLE & DECREASE FATIGUE: If you're trying to bulk up, use Quattro Chocolate Love as a part of your daily dietary supplements to help you build larger, denser, and leaner muscle mass. You'll also speed up post-workout recovery so that you can continue to hit the gym and feel less fatigued after each visit.
GREAT-TASTING, GLUTEN-FREE FORMULA: Diet supplements and weight loss drinks can be difficult to stomach with their bizarre flavors and funny aftertastes. Quattro Chocolate Love, however, is a delicious chocolate-flavored protein isolate that you can mix with water. Enjoy the taste day-in and day-out.
HELPS WITH METABOLISM & DIGESTION: Quattro is a great way to burn fat and increase your metabolism. This complete dietary supplement helps to prevent gas and bloating by supporting optimal digestion and improving metabolic nutrition. This can then help to optimize fat burning and decrease your appetite.