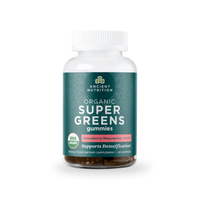 Organic SuperGreens Gummies
$32.95
Get the benefits of juicing every day in a deliciously easy gummy that's perfect for the whole family.
Delicious Strawberry Watermelon flavor
The easiest way to get 15 superfoods: greens, vegetables, berries, fruits & more
Supports healthy detoxification†
Supports healthy cellular energy†
USDA Certified Organic
Superfood Support
Organic SuperGreens Gummies are packed with alkalizing greens, antioxidant-filled fruits and veggies, and you'll get micro-algae like spirulina, traditional greens like broccoli, spinach and kale and powerful berries like acai and elderberry. The best part? Every ingredient is certified organic.
USDA Certified Organic
Did you know that nearly 20 percent of the 17,000+ pesticides in use today are known as systemic pesticides — which means they're actually taken up inside the plant and can't be washed off? All our Organic SuperGreens products are proudly USDA Certified Organic. That means our ingredients are organic, non-GMO and grown in nourishing, high-quality soil: no toxic pesticides, herbicides or processing agents allowed.
Natural sweeteners
We're proud of what's in our products, and what's not. You won't see artificial sweeteners or sugar alcohols in our formulas — those ingredients can be hard to digest. Instead, we've chosen tapioca syrup, cane sugar and real fruit flavors to give these gummies their tastes-like-candy flavor without overloading on sugar. Both tapioca syrup and cane sugar are natural sweeteners that are lower in calories and less processed than traditional white sugar.
Vitamin B12
Vitamin B12 is an essential vitamin that your body needs, but can't produce. We've included 80 mcg of vitamin B12 in every serving of deliciously fun-to-take Organic SuperGreens Gummies to help support overall health and wellbeing, healthy cellular energy† and more.