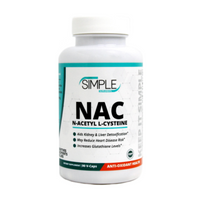 NAC (N-Acetyl L-Cysteine)
$29.99
NAC (N-Acetyl L-Cysteine)
600mg N-Acetyl L-Cysteine
90 Veggie Capsules

Top Benefits:
• Free Radical Protection
• Maintains Cellular Health
• Normal Immune System Function
• Non-GMO
• Vegetarian / Vegan
• Kosher
• GMP Quality Assured
N-Acetyl Cysteine (NAC) is a stable form of the non-essential amino acid Cysteine. It is a sulfur-containing amino acid that acts as a stabilizer for the formation of protein structures, and promotes the formation of glutathione. Glutathione is a powerful free radical scavenging compound that also helps to maintain normal, balanced immune system function. In addition, NAC can help to support healthy brain and neuronal tissues.
_______
Simple Supplements' goal is to provide clean and effective internal health support for athletes by using high quality, effective and "cutting edge" supplements. These supplements are provided based on sound scientific research data and formulated without any extra or artificial excipients.
Supplement Facts

Suggested Use
Take 1 capsule twice daily or as directed by your Health Care Professional.
NOTE: If you have a medical condition, are pregnant, lactating, trying to conceive, under the age of 18 or taking medications, consult your Health Care Professional before using this product.