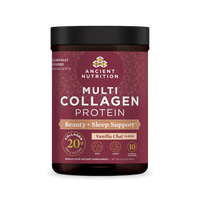 Multi Collagen Protein Beauty + Sleep Support
$54.95
With everything you love about Multi Collagen Protein, plus beauty and sleep-supporting superfood ingredients — this groundbreaking formula delivers real results you'll see and feel.
Contains clinically studied beauty-boosting ingredients plus magnesium to pack in sleep, skin & energy support benefits†
Supports healthy skin & skin elasticity†
Improves appearance of crow's feet after 4 weeks†
Promotes healthy hair thickness & growth while reducing hair breakage†
Promotes restful sleep†
Reduces collagen degradation with noticeable results†
Reduces joint discomfort and helps joints recover faster†
Reduces knee stiffness at 7 days†
20 grams of collagen per 2 scoops with 10 different types of collagen
Made from pasture-raised and grass-fed sources
Clinically Studied Fermented Eggshell Membrane Collagen
We're the only leading collagen supplement brand on the market currently with a proprietary fermented eggshell membrane collagen ingredient backed by human clinical studies, proven to provide real results as early as day one.† This fast-acting ingredient provides collagen types I, III, IV, V, VII, VIII, X, XII and XXII and supports joint, gut and skin health.†
Clinically Studied Plant-Based Skin Supporter
This unique blend of superfood ingredients — including pomegranate fruit extract, coffee fruit extract, Japanese sophora flower, acerola cherry, camu camu fruit, acai berry and more — is clinically proven to promote healthy skin and skin elasticity.† Elasticity refers to your skin's ability to stretch and bounce back into place; our skin's elasticity is what gives us firm, healthy-looking skin.
Hydrolyzed Bovine & Fish Collagen Peptides
Our bovine collagen peptides are pasture-raised and cruelty-free. Featuring collagen types I & III, these collagen peptides support overall health. Our marine collagen is sustainably sourced from wild-caught pollock, cod and haddock from North American waters. It's naturally high in type I collagen, the most common collagen in the human body that helps make up our bones, skin, fascia, ligaments, tendons and blood vessels.