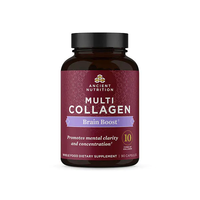 Multi Collagen Peptides Brain Boost
$54.95
This is more than just collagen: this is real results from 10 types of collagen and brain-boosting botanicals. Manage stress, clear your mind and stay focused† with Multi Collagen Protein Brain Boost†.
Promotes mental clarity & concentration†
Promotes a positive mindset†
Helps alleviate the effects of stress & tension†
Supports healthy energy & more restful sleep†
Improves appearance of crow's feet in 28 days†
Reduces exercise-induced joint discomfort in as little as 24 hours†
Reduces knee stiffness in a week†
Promotes healthy hair thickness & growth while reducing hair breakage†
Boosts energy & fights fatigue†
Contains cutting-edge, clinically studied, fermented eggshell membrane collagen for enhanced benefits†
Made from pasture-raised and grass-fed sources
This multi-source formula is designed to bring you all the real results of collagen, plus brain-boosting botanicals that help you stay focused and think clearly.
Clinically Studied Fermented Eggshell Membrane Collagen
We're the only leading collagen supplement brand on the market currently with a proprietary fermented eggshell membrane collagen ingredient backed by human clinical studies, proven to provide real results as early as day one.† This fast-acting ingredient provides collagen types I, III, IV, V, VII, VIII, X, XII and XXII and supports joint, gut and skin health.†
Brain Boost Blend†
This superfood blend combines organic fermented ashwagandha root, ginkgo leaves and bacopa brahmi leaves, plus organic ashwagandha root and leaf extract and organic lion's mane extract. These powerful botanicals have been used for centuries to support concentration, focus and positivity.† Ashwagandha is one of the most-studied adaptogenic herbs available, and our lion's mane is grown on our own regenerative farmland — so we can ensure the highest quality ingredients possible.
Bovine Collagen
Our bovine collagen peptides come from sources that are grass-fed and pasture-raised, cruelty-free, and made without hormones. These collagen peptides offer collagen types I and III, and provide support for healthy nails, gut, joints and skin.†