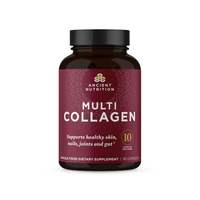 Multi Collagen Capsules
$52.95
Packed with 10 types of collagen from four real food sources, these groundbreaking collagen capsules deliver real results in an ultra-convenient format.
Improves appearance of crow's feet after 28 days†
Reduces exercise-induced joint discomfort in as little as 24 hours†
Reduces knee stiffness in a week†
Promotes healthy hair thickness & growth while reducing hair breakage†
Boosts energy and fights fatigue†
Contains cutting-edge, clinically studied, fermented eggshell membrane collagen for enhanced benefits
Clinically Studied Fermented Eggshell Membrane Collagen
We're the only leading collagen supplement brand on the market currently with a proprietary fermented eggshell membrane collagen ingredient backed by human clinical studies, proven to provide real results as early as day one.† This fast-acting ingredient provides collagen types I, III, IV, V, VII, VIII, X, XII and XXII and supports joint, gut and skin health.†
Hydrolyzed Fish Collagen Peptides
This marine collagen is sustainably sourced from wild-caught pollock, cod and haddock (whitefish) from North American waters. This type of collagen is naturally high in type I collagen, the most common collagen in the human body that helps make up our bones, skin, fascia, ligaments, tendons and blood vessels.