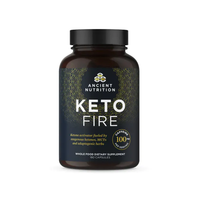 Keto Fire Capsules (Exogenous Ketones)
$59.95
Created specifically for those following the keto lifestyle, this powerful combination of exogenous ketones, MCTs and superfood ingredients is designed to help take your performance to the next level.
Promotes healthy energy levels & athletic performance†
Promotes healthy body composition & weight management†
Helps reduce body fat percentage†
Helps reduce stress-induced food cravings†
Promotes healthy fat metabolism†
Exogenous Ketones
You'll find 3 kinds of powerful exogenous ketones in this blend including Magnesium Beta-Hydroxybutyrate, Calcium Beta-Hydroxybutyrate and Sodium Beta-Hydroxybutyrate.
Energizing MCTs
Medium chain triglycerides, aka MCTs, are a high-quality fat that is easily absorbed by the body to use as clean energy. It's a satiating source of energy from — not carbs or sugar — that's easy for your body to digest and use. Our MCTs are sourced from coconut.
Superfood Support
This keto-specific supplement incorporates some of history's most respected superfoods. Ingredients like organic ashwagandha root, ginger root, coffee cherry fruit and long pepper root extracts are typically more concentrated than just the plants themselves; collagen-filled bone broth oil rounds out this superfood blend.
Ginger Root Extract
The ginger root extract included in Keto FIRE supports healthy joint function†, perfect for an athlete, weekend warrior, or anyone looking for joint support.†