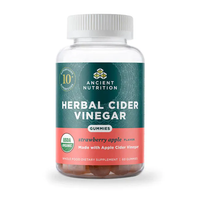 Herbal Cider Vinegar Gummy
$24.95
Meet apple cider vinegar with a superfood twist. This unstoppable blend brings you the time-honored genius of apple cider vinegar, plus a regenerative blend of antioxidant-filled superfood ingredients.
Delicious, easy to take gummy form
Apple cider vinegar with 10+ organic, regenerative superfood ingredients that generally supports:
Healthy microbial balance
Healthy antioxidant levels
Healthy weight management (combined with a healthy diet and lifestyle, including regular exercise)
Healthy body composition
Healthy detoxification
Healthy gut
Apple Cider Vinegar
Apple cider vinegar is part of a centuries-long tradition of using vinegar to extract the beneficial compounds of herbs, roots and berries. It's been traditionally used as a powerful digestive aid, but it's also believed to promote healthy microbial balance, overall healthy weight management (with an overall healthy diet and lifestyle), a healthy pH balance and more. We use organic, unfiltered apple cider vinegar – which means the yeast and beneficial bacteria are still present – and infuse it with 10+ organic superfood roots, berries, leaves and fruit.
Organic Regenerative Superfood Blend
Our Herbal Cider Vinegar is packed with 10+ organic superfoods: roots like turmeric, fruits and berries like goji berry, sumac berry, guava, passionfruit and elderberry fruit, and other superfoods like moringa leaf. Most of those ingredients are grown on our own organic, regenerative farmland. That means they're grown in rich, nutritious soil using regenerative practices that are friendly to the earth — like low-till farming, natural grazing, and cover crops. And it means we never use toxic chemicals and pesticides that can harm your health and the planet…so you can feel confident that every ingredient is the highest possible quality.
Vitamin B12
Vitamin B12 is an essential vitamin that your body needs, but can't produce. We've included 24 mcg of vitamin B12 in every serving of deliciously fun-to-take Herbal Cider Vinegar Gummies to help support overall health and wellbeing, cognitive health, healthy nervous system function, cardiovascular health, healthy nutrient metabolism† and more.