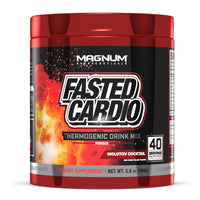 Magnum Fasted Cardio is an ultra premium weight loss drink for people that want to optimize their fat burning potential. This Flavor of Fasted Cardio is Rise and Grind and tastes like a drive-through orange drink. Magnum Fasted Cardio features top-grade ingredients including some not seen before in other supplements. Ingredients like Cerin™, indian gooseberry extract, African Mango Seed Extract, GBBGO™ and Capsiatra™ will have your fat burning furnace turned up to the max.
Magnum Fasted Cardio is not just for those doing cardio (although it shines their too!), it is for anyone looking to maximize their potential for weight loss.
Magnum Fasted Cardio Can Help:
Optimize fat burning workouts
Shred Fat around the mid-section
Raise internal metabolic temperature
Increase energy and mental clarity
Fasted Cardio Directions: Mix 1-2 scoops in 8-12 oz of water and consume 15-30 min prior to training or anytime of the day you want a boost.