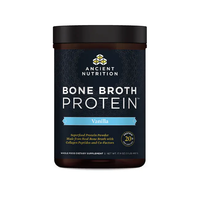 Bone Broth Protein
$52.95
Bone Broth Protein is a nourishing, concentrated bone broth that is 3x as potent* as homemade broth and makes it easy to get healthy gut, joint and inflammation support.†
20g protein, 2g carbs
Supports joint health and reduces joint discomfort†
Supports a healthy inflammation response†
Supports a healthy immune system†
Supports gut health & a healthy gut microbiome†
Supports healthy skin†
Features collagen type II, glucosamine, chondroitin, hyaluronic acid and 18 amino acids
3x more potent than homemade broth and twice as potent compared to the leading bone broth brands (based on protein content)
5x more potent than leading brands on micronutrients and macronutrients
Chicken Bone Broth Protein Concentrate
Our sustainably sourced chicken bone broth concentrate comes from non-GMO, U.S.-farmed chickens. It provides collagen type II, which supports a healthy gut, healthy skin and joint health.†
Amino Acids
Amino acids are the building blocks of protein; getting enough essential amino acids in your diet is critical to maintaining optimal health. You'll get 18 amino acids in every serving of Bone Broth Protein. There are 20 amino acids in total, which each play a specific role in the body. Amino acids are involved in almost every biological process and aid in hormone production, immune system function, muscle growth, energy production and more.
Joint-Friendly Compounds
Bone Broth Protein contains collagen type II (the type of collagen found in your gut lining, joints and cartilage) as well as compounds like glucosamine, chondroitin and hyaluronic acid. Those compounds help your joints move and feel better, with less discomfort and increased mobility.