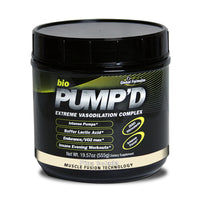 THE COVETED PUMP
Isn't that what it's all about? You head to the gym, get a few sets in, start your flexing "routine," hoping to see veins popping and muscles engorged. We all want that sense of blood rushing through our veins and filling up our muscles. Problem is, you read the hype about all the products promising the "best pumps of your life,' and the sad truth is, most, if not all, fall painfully short. If you've tried any Global Formulas product, you know we don't mess around when it comes to formulating the most potent products on the market-so let's do this!

STIM FREE, YET THE PERFORMANCE OF THE STRONGEST PREWORKOUT
Most, if not all pump products on the market stop right there. The typical "add to your favorite pre," etc. bioPUMP'D is the most amazing stim-free preworkout you will ever experience. Not only will you have the pump of a lifetime, but you will have increased strength, muscular endurance, and FOCUS. bioPUMP'D utilizes the most powerful nootropics in the industry, giving you incredible mind to muscle connection, and a laser-like focus you would never expect from a non-stim pre. Nootropics are most commonly referred to as "smart drugs," allowing you to maximize cognitive function. Nootropics, are once again, dosage dependent, and bioPUMP'D utilizes only the purest forms to make sure you're getting your work in, but can still get a good night's rest.
FEEL TO BELIEVE
With the very first scoop, you'll be amazed at how bioPUMP'D addresses EVERY issue of your workout. When you leave the gym, you'll feel like you can do it all over again. Now go get your PUMP'D ON!